Today I'd like to rant about the ways transport is organised in different places I've visited so far.
Ukraine
That's a country I don't recommend to visit. And I happen to live there. Main features: each transport type has separate tickets (tokens in case of metro systems) and whole system give me a feeling it's going downhill. Not to mention that "timetable" is a long forgotten thing and "replacement bus" is what happens only for major disasters.
Kiev aka Capital City. It has all kinds of transport but it's disorganised:
Railroads — shitty. Main station is merged with another station so you have two exits. There is a bus station near main exit hidden inside car parking and you can walk only one road from there. Metro station entrance is located in small building hidden somewhere sideways. It's the only entrance there and has only two escalators working and no straight connection to that railroad station. I don't know how it can be made more inconvenient.
Metro — okay, it's there and it works and it works fast. The only downsides are outdated rolling stock (even Kharkiv got more of newer cars) and more advertising than on any Internet site (they even tried to put it on railings and handles inside cars).
Airport — main airport (Boryspil) is situated in 20 km from Kiev and you can only get there by bus. Not mentioning that bus station is really a U-turn and you need to cross car parking to get to airport.
Kharkiv. Nothing much to say. While transport generally sucks (and roads are suitable for tank testing grounds only as noted by current Vice Prime Minister) it's at least well-connected to each other. Also I'd like to note that local government does anything to get rid of trams (and maybe trolley buses). And while statistics says that most busy metro stations have the same load as in Tunnelbanan trains there are twice as short and have bigger intervals.
Sweden
That's the place where they put some thought into transport planning.
Everything seems to be connected — Stockholm central hub is amazing and you can go around it via Tvärbanan if you don't want to go through center. Göteborg has railroad and bus stations integrated and tramway hub near it. Gävle C features quite a picturesque view. Oh, and Tunnelbanan features turnstiles (Ukrainian metros also have them and I've heard they started installing turnstiles in Oslo while other places have only validators).
Other places
Oslo
Quite a good network. The only funny moment moment was when I ask for SL card and got one (later I found out that they had a company named the same way replaced with Ruter # in 2008). And traffic lights for pedestrians are their distinct feature since it's hard to miss six instalments of them on each crossing with two red lights on each. Looks like Oslo denizens are not so keen to take a hint when it's not a good time to cross a road. Oh, and their signs hint on drunks crossing the road: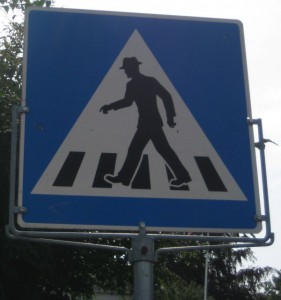 Helsingfors
Decent transport network. The only complain I have is that they haven't connected airport to the city by railroad, but they are working on that.
Copenhagen
This is a town with unique feature — it may be the only town having metro system not connected to central railroad station. And it's also the place where car parking space is rather small compared to bicycle parking. The only bad feature are idiotic traffic lights: they have a timer showing how much time you have to wait or how much time is left to cross the road. It's a bit unfair to wait for two minutes and have only twenty seconds to cross the road. In any direction. And no button for requesting green light either. And I've seen the same gear in Kiev (with similar time limits too).
Conclusion: European transport has to become disunited, replace its rolling stock with stuff from 60s and decimate it too to match superior transport from Ukraine. Well, prices should be dropped too or they should just wait for Ukraine to catch up with them.