I bought my brand newrefurbished IBM ThinkPad 390 six years ago. While its hardware may be laughable by the current standards – PII-266, 192MB RAM, 4GB HDD – it was my computer where I started developing for FFmpeg. GCC compiling libavcodec/motion_est.c was the reason for adding 128MB to original 64MB of RAM. IIRC, all of codecs development till 2006 GSoC (VC-1 decoder) was done on it.
When I moved to MacMini, it still served me – as a router (it's hard to see COM port on modern hardware, so modem was connected to TP390, later it was ADSL modem and second PCMCIA network card), as an x86 platform (mostly for running IDA and binary codecs) and for Internet-related stuff (cvs and git server, mail fetching, small web server, downloader and such).
Here's how it looked for the last years: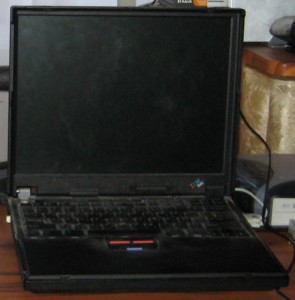 Rest in peace.
Now I have Asus EEE 701 working instead of it. Since it's more compact, I can also fit BeagleBoard on the table next to it.