Since I have nothing better to do (obviously) I want to talk about marzipan pig situation in Sweden.

There's no Christmas in Sweden, there's only the traditional Jul which is closer to Hogswatchnight than a Christian holiday. And one of the Jul traditions is consuming various pig products starting from Yule ham and ending with—you guessed it—marzipan pigs. And of course during the season you can find all such products like julskinka (the original Yule ham), julpressylta (kinda like head cheese but better), julprinskorvar (small sausages) and of course marsipangris (no prize for guessing). And of course any decent bakery offers some marsipangrisor as well (especially in Gävle for some reason).
They come in various shapes but usually there are three standard shapes being present everywhere: very small standing pink pigs (you can spot them on two photos below), round white piggy with lower half dipped into chocolate (quite often with a coin sticking from its back too) and larger white pig's head holding a marzipan apple (somewhat like the second picture but smaller and shorter). As I mentioned, the most variety of them I've seen in Gävle so I'd be sure to drop by again if I be nearby during Jul season.
And now the pictures (I'd ask for forgiveness for the photos quality but there's no quality there):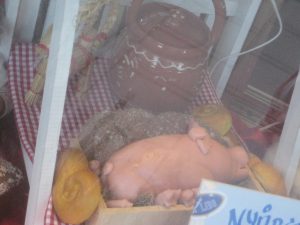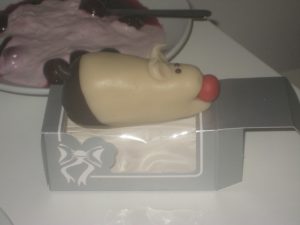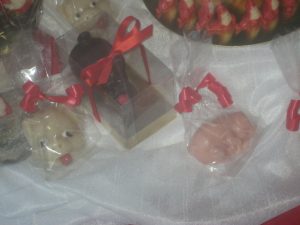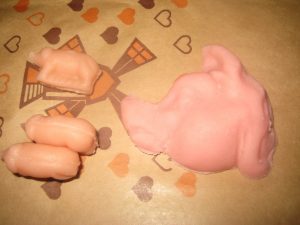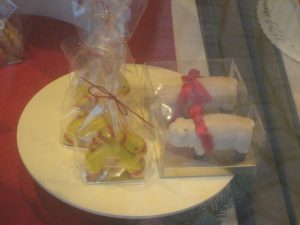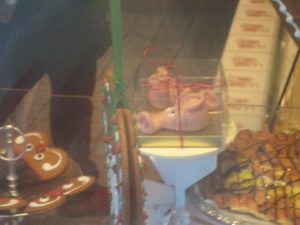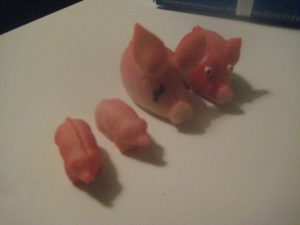 P.S. Obviously I wanted to write this post a bit earlier but you can see how lazy I am.