First of all, unlike Rheinland Palatine railways I've not travelled on all local railways here because of certain geographic peculiarities it takes less time to get to the farthest corners of Rheinland-Pfalz from here than to places around Bodensee. And I can't visit all historic railways either because one of them is located in the middle of nowhere with the only connection being a bus that comes there maybe twice a day.
Nevertheless, I've seen most of them and here I'd like to describe my impressions about them.

Railways of Baden
Let's start with the main line. Due to its strategic position at the border of Germany, Baden has connections with various neighbouring countries. So the main line would be the backbone of Europe connecting North and South, from Rotterdam to Genoa along the Rhine. One of the important parts of it is the track from Mannheim to Basel with branches that connect it to France as well. Unfortunately its importance was demonstrated when because of botched tunnelling they had to close the part between Rastatt and Offenburg and it had been causing chaos for many weeks because there are no sane alternatives to it: all other lines are single-track and French ones are not electrified—while Rheintalbahn is four-track for most of its length (which was mandated by an international agreement between Switzerland, Germany and Italy—yes, it's that important).
I mentioned branches to France before. There are two of those: around Strasbourg and Mulhouse (there had been more but France decided to cut ties like they were afraid of German army or something) and those are essentially the main connections between Germany and France. The only other double-track line goes via Saarland and it's rather a joke. It takes 1 hour 22 minutes from Mannheim to Saarbrücken with express train like ICE or TGV and 1 hour 36 minutes with regional train. That's all you need to know about how fast that line is. The other lines are unelectrified single-track railways connecting rural towns: Strasbourg-Lauterbourg-Wörth am Rhein, Strasbourg-Wissembourg-Winden(-Neustadt an der Weinstraße), Metz-Apach-Perl(-Trier).
Now let's talk about less important lines that are mostly connected to the main one. In Mannheim there's a line going to Eberbach, Lauda and Würzburg (very scenic, I'd definitely visit it again) with branches to Miltenberg and Aschaffenburg. Near Bruchsal there's also a high-speed branch to Stuttgart. From Karlsruhe you can take Residenzbahn to Stuttgart (fun fact: previously there were both Regio-Express and Inter-Regio-Express trains from Karlsruhe to Stuttgart with no other difference beyond that Inter- part, now there are only IREs left). From Offenburg the main line branches into Schwarzwaldbahn to Konstanz and further to Switzerland (very scenic but I've seen almost everything there). From Freiburg there's a line to Donaueschingen (i.e. to Schwarzwaldbahn) known mostly for running through Höllental with a station Himmelreich there (for non-German speaking people like me: it's Heaven Kingdom town in Hell Valley).
And in Basel the main line transforms into Hochrheinbahn that runs along the Rhine to Konstanz. The line has several connections to Switzerland, like Waldshut and Koblenz are connected with the oldest rail bridge over the Rhine. It is also remarkable that some stations on Swiss territory still belong to Germany, the most known is Basel Badischer Bahnhof but there are more in e.g. Beringen and Neuhausen.
Of course it's worth mentioning that some rail lines are serviced by trams (it's called Karlsruhe model for a reason), sometimes only by trams. For example you can ride S5 from Karlsruhe to Bietigheim-Bissingen which is also the end station for S5 coming from Stuttgart. And S4 for a long time hold the record for the longest tram line in the world (more than 150 kilometres from Öhringen to Karlsruhe and then to Freudenstadt), now it has been split into S4 and S8.
And now historical railways.
There are only three historical railways in Baden plus some smaller neglected branch lines (like Neckarbischofsheim-Hüffenhardt) that have only occasional traffic. And some routes are so scenic that they have historic trains running on them like part of Schwarzwaldbahn from Triberg or the ring around Kaiserstuhl. The lines I'm talking about are Kandertalbahn (Kandern-Haltingen, close to Swiss border), Sauschwänzlebahn and international historical railway Etzwilen-Singen.
Kandertalbahn is nice but without any distinct features, Sauschwänzlebahn is so remarkable that I wrote a separate post about it long time ago and Etzwilen-Singen line is worth talking about here. It runs across the Rhine from Switzerland to Baden (unfortunately not the full way to Singen, the track between Rielasingen and Singen requires some re-constructing. So while it's Etzwilen-Singen line, the train I took ran from Stein am Rhein (hauled by electric locomotive to Etzwilen and changed to proper steam engine there) to Rielasingen. And the second class part of carriages looked exactly like third class part but that's some Swiss peculiarities I don't care about.
Railways of Württemberg
It might be a surprise but despite being part of high-speed corridor Paris-Stuttgart-München, Württemberg has just one bit of high speed line connecting Stuttgart to Mannheim and Stuttgart-Ulm part is very slow speed (essentially it takes an hour no matter what train kind it is). Why? Mountains and too steep curve. That's why they're building a new line and burying main station in Stuttgart (the infamous Stuttgart 21 project). And since it costs a lot of money they decided this is more important than building missing tracks on Rheintalbahn as the agreement demands. At least the railway from Stuttgart to Friedrichshafen via Ulm plays central role in the song Auf de' schwäb'sche Eisebahne, the only railway-related German song I know.
The other notable railways are Stuttgart-Aalen-Crailsheim-Nürnberg, Miltenberg-Lauda-Crailsheim (it's known as Westfrankenbahn), Aalen-Ulm and so-called Ring Railway (Villingen-Rottweil-Aldingen-Tuttlingen-Geisingen-Donaueschingen-Villingen). There are many other railways but they are not that remarkable.
And I should mention the quarter of German cogwheel railways (or half if you exclude Bavaria as Bavarians do) is located in Stuttgart—Zacke (the line Marienplatz-Degerloch). Speaking of German cogwheel railways, there was one connecting Reutlingen and Kleinengstingen but it got dismantled back in 1969 leaving confusing names like Südbahnhof Nord (South Station North) station in Reutlingen and Zahnradbahn Honau-Lichtenstein society that sometimes run steam trains near Reutlingen on tracks that have no relation to that old cogwheel railway at all.
Speaking about still existing historical railways, there is a lot of them of varying forms and gauges.
fully historical normal-gauge railway (i.e. exclusively for an occasional rides of old trains)—like Lokalbahn Amstetten-Gerstetten;
fully historical narrow-gauge railway—like 750mm Öchsle and 1000mm Albbähnle (this one also goes to Amstetten so you can catch two different rides the same day);
historical railway operated regularly but with rail buses from 1960s—that would be Schwäbisch-Alb-Bahn (which is the longest of them all with ~43km still in service);
branch Trossingen-Trossingen Stadt which operates rail bus normally but electric historic tram on special occasions (the line it connects to is not electrified, only 4km of the branch are);
mixed system that I've never seen elsewhere: part of branch line is in regular service but occasionally historic trains go to the very end of the line. There's Korntalbahn where you can go from Korntal to Heimerdingen by rail bus every day but Korntal-Heimerdingen-Weissach train runs only couple of times per year. There's Schorndorf-Rudersberg track in regular use but Schorndorf-Rudersberg-Welzheim is served only on Sundays and with historic train;
and final (dis)honourable mention is Härtsfeldbahn—a narrow-gauge railway from Aalen to Dillingen am Donau that got dismantled over the years so only 2-3km in the middle of nowhere remain (that's the railway mentioned in the very beginning). Still enthusiasts run trains there on some holidays and even try to build some of it back.
And now for something about the same. Here's a picture of train on Öchsle: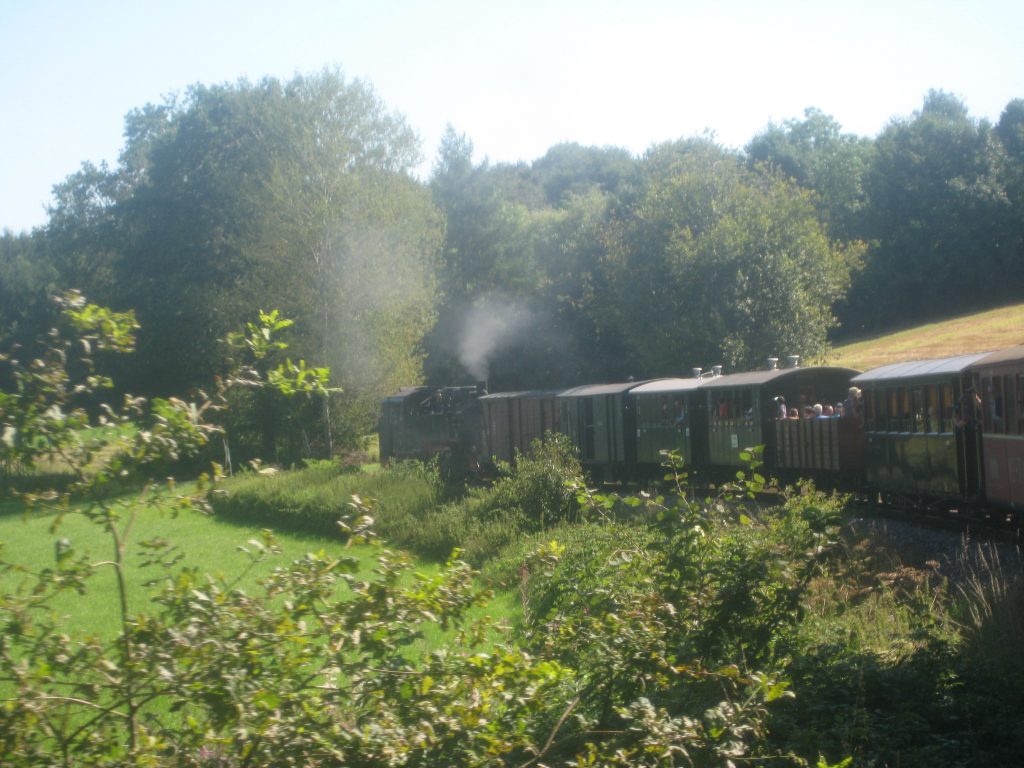 While talking about historical railways in Württemberg it's worth mentioning Ulmer Eisenbahn-Freunde socienty (Railway Friends of Ulm if translated directly). They run steam trains on some of those lines and on other railways too (like Karlsruhe-Ettlingen-Bad Herrenalb which is serviced by trams).
Here's a train operated by them in Gerstetten: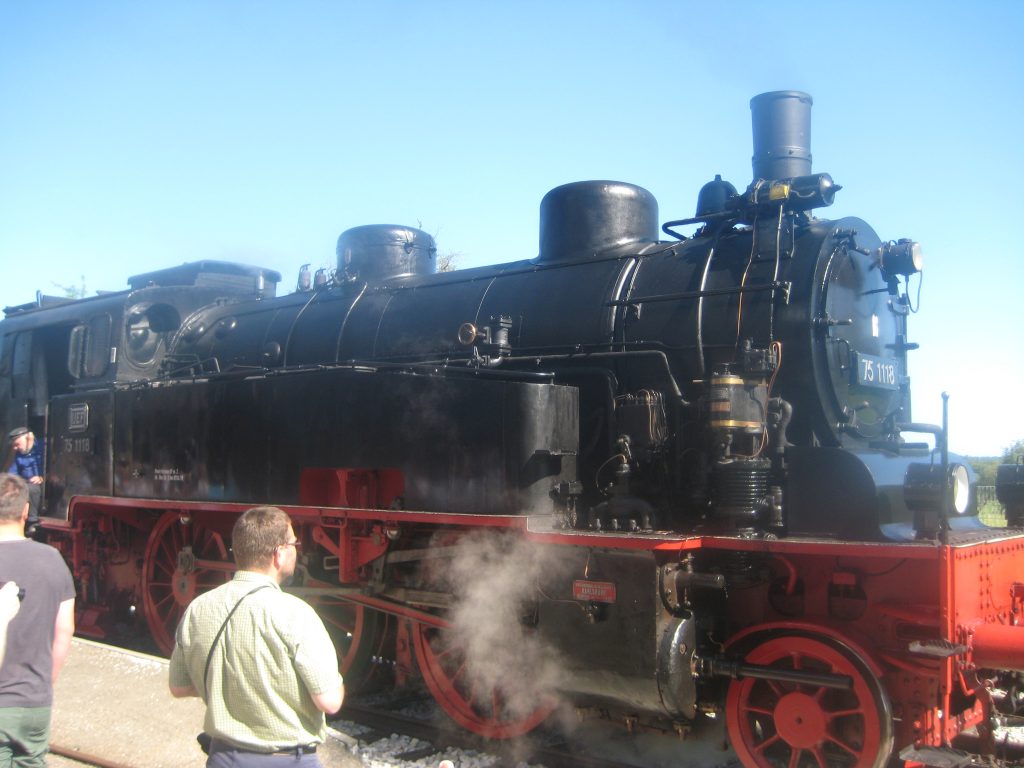 It was built in 1921 in Karlsruhe and it's worth saying some words about the manufacturer. Maschinenbau-Gesellschaft Karlsruhe went bankrupt in 1929 but before that it was not merely a place where locomotives were built and whose founder later founded Maschinenfabrik Esslingen as well (this one still exists) but it was also a place where such people as Niklaus Riggenbach (one of the pioneers of cogwheel railways; he moved to Karlsruhe when he decided he wants to know how to build locomotives), Carl Benz (son of locomotive driver and inventor of car), Gottlieb Daimler (the guy who put internal combustion engine wherever possible) and Wilhelm Maybach (guess why he got a car and couple of streets named after him). It's always nice to find out about such development of seemingly unremarkable things.