When I think I've learned enough about Dingo Pictures there's something new appears. From Toys review I've learned that Roswitha Haas also published a book (or maybe several) that are directly related to the subject at hoof. And of course being curious I've decided to buy it.
Amazon mentions two other books—an adaptation of Land Before Time and Jimmy Button but I dared not to buy them (one has definitely nothing to do with Dingo Pictures and I fear to find out that the first one is not about Tio).
Anyway, let's look at the alternative version of King of the Animals Part 2 (spoiler: it's still much better than Disney remake).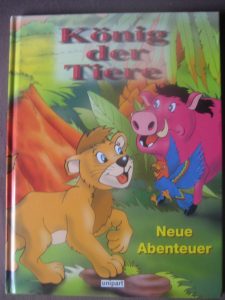 First let's mention some technical technical details: this book was released by Unipart in 1999, the same year as King of the Animals Part 2 but it had completely different artists (from Bayreuth even, while the publisher is located in Hessen not far from Dingo studio) with a bit different style as well. The same publisher printed children book adaptations of Disney stories too. But who cares about that, let's look at the pictures!
If you wonder who is that magnificent warthog crocodile on the cover, that's Dundee. If you wonder why he does not look like himself in the movie it's because for some reason they've decided to cast warthog Bobo as Kemo's friend (no idea why, artistic license?).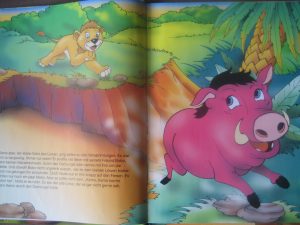 The story is still largely the same: there's this king of the animals (aka lion), he has a son Kemo, there's that black panther with his own son Pino and minions.

And there are diamonds. My God!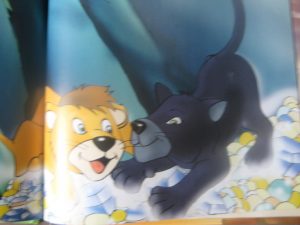 Pity they could not have a climactic fight here but here's the best shot at it: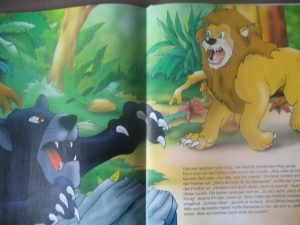 The ending is significantly different from the movie though and I'm not going to spoil it.
Overall, this was an interesting experience and while I'm not going to research it further I still hope more books might re-appear in the future.