If you talk about German films as a foreigner you might know some good ones like influential Fritz Lang movies (for Frau im Mond they've hired Hermann Oberth himself and as the result their depiction of space travel looks much more realistic than modern Hollywood flics) or Gojko Miti? adventure features (the Eastern Westerns). But if you're not from Germany, what German cartoons do you know? Looks like the only German cartoons that got some widespread action are those from Dingo Pictures.
Dingo Pictures is a company located in Taunus that has produced about thirty Hess(l)ich cartoons in the second half of 1990s. Some of those were completely unique and some were ripped off by D*sney and Don Bluth earlier.
Dingo Pictures has their own unique and easily recognizable style. But before I explain it, here are the eponymous animals in one of their cartoons: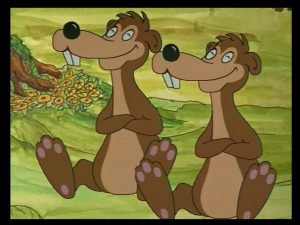 So, Dingo Pictures was a pioneer, combining computer drawn animation with 2D drawn background (watercolours no less!). Also like the anime father, Osamu Tezuka, the company had a cast of actors always appearing in every cartoon.
For example: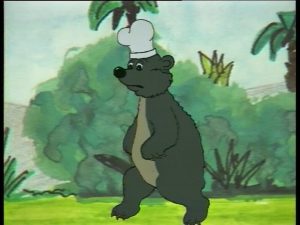 The Bear (he often changes scenes and complains about everything)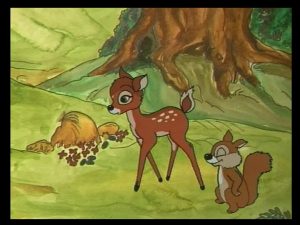 Goldie (named so after the Austrian book Bambi) and Wuschel (the squirrel), Ringo the Hare is not pictured here
And here's the star of all Dingo Pictures cartoons, the one and only Wabuu: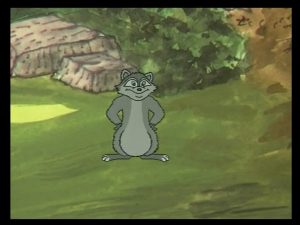 Wabuu!
In case you didn't know, Wabuu was so popular that he had his own original cartoon, title song (that can be heard in several other cartoons too) and even audio books! Even now the DVD with his own cartoon costs at least twenty Euro on Amazon and about ten Euro used (for comparison, you can buy almost any other used DVD with Dingo Pictures cartoon for one eurocent).
Anyway, we were talking about the style. It's hard to express in words what makes Dingo Pictures cartoons so charming but I think phrases "record-mending animation quality", "copy-pasting everything", "reusing the same scenes in other cartoons", "more padding that Star Trek The Motionless Picture" and "dull voice acting" would do.
Here are some shots from one of their longer films, King of the Animals (or Lion King for short), don't mind the quality, I tried to be lazy: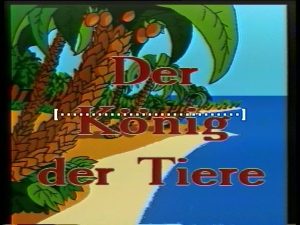 Title card. One of the best ones, honestly.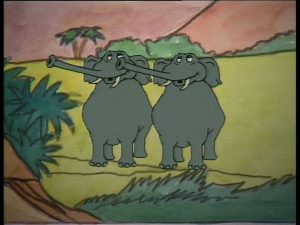 Every animal is uniquely redrawn.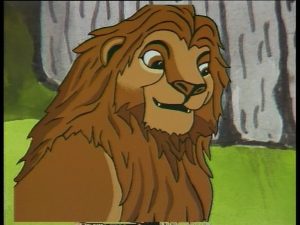 The titular king.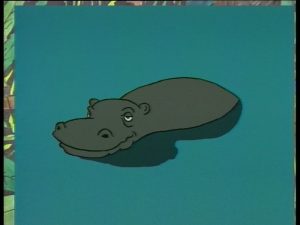 Nice backgrounds.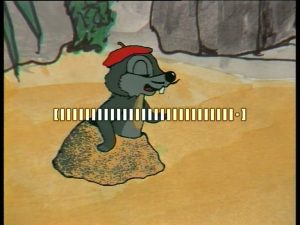 One of moles (as you can guess from its look this mole is Italian).
The story is very typical: the lion rules the jungle full with monkeys, hippos, crocodiles and vultures (and with hares, squirrels and bears—the bear picture above is from this cartoon). One day a monkey finds diamonds but they decide not to mine them in fear of humans coming. With the birth of his son, the lion king loses interest in ruling and the black panther seizes the power with cheating and false promises and exiles the king. Later, with the help of snake, vultures and bear the panther is defeated. If you think you've heard this story elsewhere, don't worry—it has unexpected twists in it.
And in the end we have scenes like this: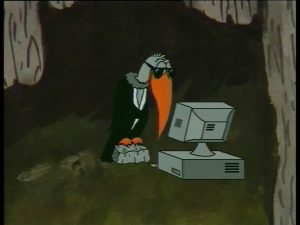 The vultures asked for a computer with phone and modem for their help.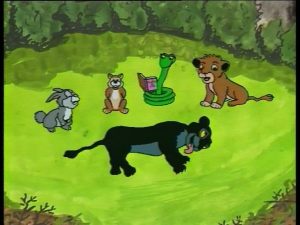 The Black Panther is defeated!
BTW the snake enjoys reading books and quotes Shakespeare, Goethe, Karl Marx and Gorbachov. If you find this strange how could you get past the fact the panther's name is Bocassa?
How one can not enjoy masterpieces like this! Oh, and every time I hear sirens I remember the duck from Animal Football, that's how much their art has touched me.
There's a sequel to it, simply called King of the Animals The Second Part but it's of lesser quality IMO.
The other noteworthy cartoons are Aladdin(the genie there is a famous actor who is not Robin Williams), Animals Football(there they've copy-pasted all their animal characters and then some), Bremen Musicians(it has live narrator filmed, not just animation), The Case for Mouse Police(it simply needs to be seen to be believed) and of course Wabuu.
P.S. For some reason DVDs are distributed by P*wer Channel GmbH and don't mention the original creator anywhere except in the video. They are that modest.
P.P.S. Honestly, I don't think I've heard about any other German cartoons. But these cartoons have reviews in BaidUTube channels of people from countries like Canada and Sweden (the latter is in Swedish of course, actually Wabuu song sounds even better in Swedish than in German).