Unfortunately I was not able to visit Sweden this Easter season — it was merely 6 days in Stockholm. Yet I've managed to try one of the reasons I come to Sweden — påskmust. For those who don't know what it is — shame on you! For the rest here's my incomplete and biased guide.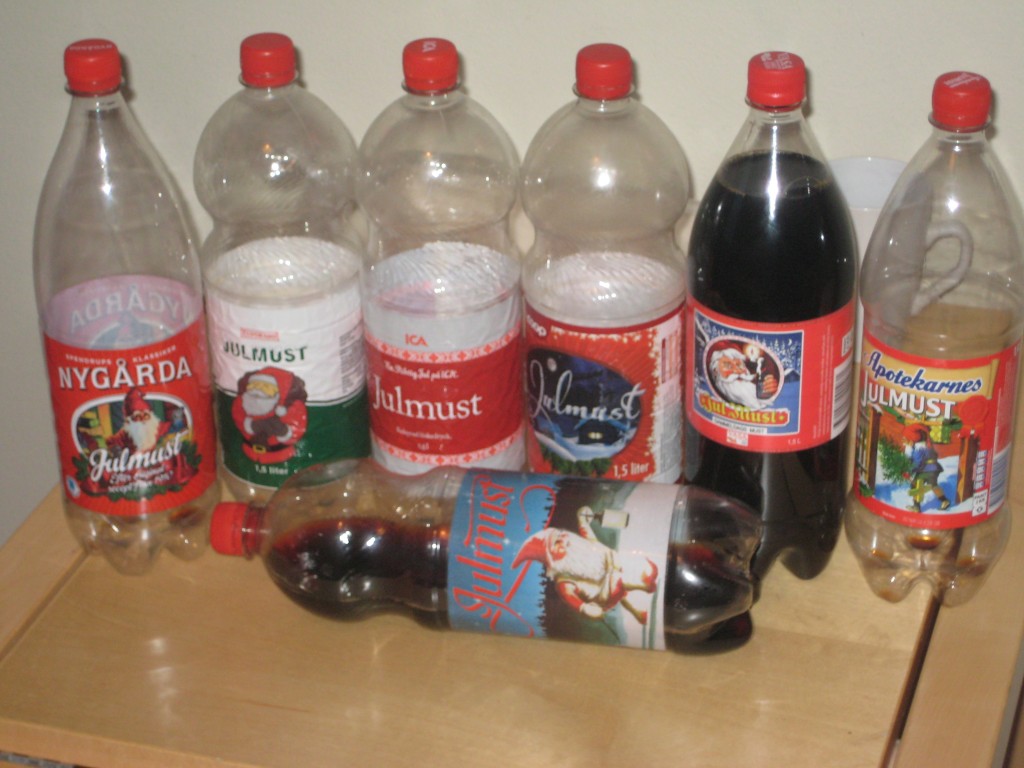 Some old julmust photo. Left to right: Nygårda, Eldorado (Hemköp), ICA, Coop, Wasa, Apotekarnes. Lying is the Lidl julmust.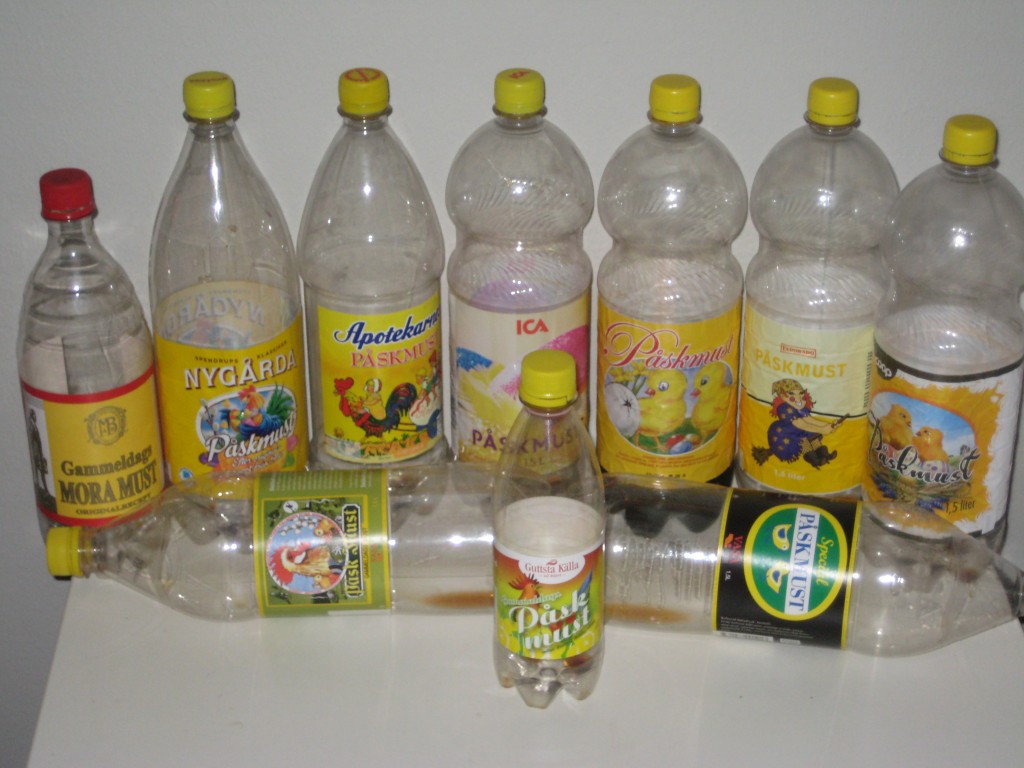 Some old påskmust photo (probably from 2011). Left to right: Mora, Nygårda, Apotekarnes, ICA, probably Lidl, Eldorado (Hemköp), Coop. Lying are ordinary and special Wasa påskmust. Front bottle is from Guttsta Källa.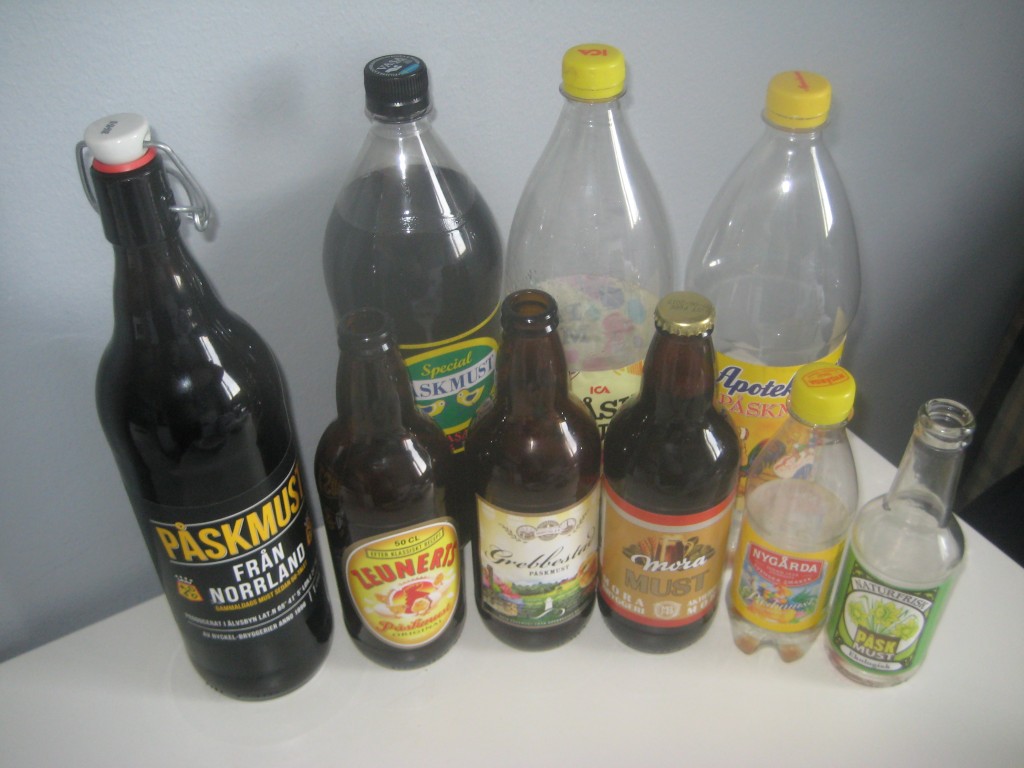 This year catch. Back row: Wasa special, ICA, Apotekarnes. Front row: Nyckelbryggeri, Zeunerts, Grebbestads bryggeri, Mora, Nygarda, Danish abomination.
So one can divide julmust/påskmust into four categories:
Widespread must from large producers or supermarket chains. That includes Apotekarnes, Nygårda and must made for Coop, Hemköp, ICA and Lidl. But not for Netto, see category four for that.
Must from Norrland breweries. Nyckelbryggeri, Wasa and Zeunerts are most known. And maybe Mora.
Must from non-Norrland breweries. Guttsta Källa, Grebbestads, Hammars (I have to try that one yet).
Abominations from people who don't know how to make proper must. That includes Bjäre must from C*ca-cola, Harboe must from Netto (made in Denmark) and whatever Danish stuff I tried this year. Concentrate for making must at home probably belongs here too.
The taste is hard to describe but it's really nice and makes me think of liquid bread for some reason. The main difference is Norrland/non-Norrland must. Julmust and påskmust in Norrland style is less sweet and usually has a hint of coffee. Must from large producers is usually sweeter than the rest. Wasa bryggeri produces two kinds of must — special, available only in Norrland and made after Norrland traditions, and ordinary, available in Svealand and with taste closer to the more widespread varieties.
Danish must is either bland or plainly wrong. The one I tried this year is not actually bad, it's just completely wrong — it contains e.g. raspberry juice and cola extract. If I drink påskmust I want to be påskmust, not a weird mix of Pommac and Trocadero that probably has only water and sugar in common with the other påskmust recipes.
And now is the actual guide. If you want to try it then start with widespread påskmust you can find in any Swedish supermarket, it should be fine. If you like it that way then be happy, if you want something less sweet then try smaller breweries and especially Norrland ones (it's hard to find it outside Norrland though). And if you are not in season then you can still try something similar — bordsdricka from Wasa or sommarmust from Nyckelbryggeri should be available (in Norrland).
P.S. You can extrapolate it to Trocadero as well except there's less variation in taste and there's no supermarket or Danish version.