Sweden is awesome country and its food is plain but decent and heart-warming. And everything gets even better in late December.
There's no Christmas in Sweden, they have Jul — it's less Christian in nature but significantly better. As an Ukrainian I totally approve Swedish version because the national Ukrainian animal and products from it are well celebrated.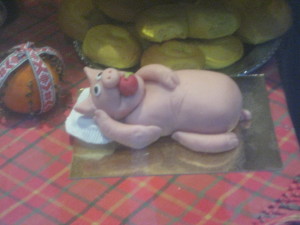 Yes, that one
Sweden has really good dairy products (I'd especially recommend cheeses and filmjölk), surprisingly good selection of meat (including horse, deer, reindeer and elk), outstanding herring (really, nothing beats fried fresh strömming) and other fish products. And oh so many variations of candies everywhere. And drinks.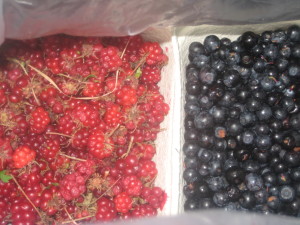 Berries
In jul it all gets even better since special food appears — traditional julskinka, sylta (and especially julpressylta), marzipan pigs, special versions of prästost and other cheese… And of course julmust.
One can try traditional game of mine — try different variations of everything. For example, drinks (Trocadero, julmust/påskmust or filmjölk), cheese or even köttbullar (I've finally found köttbullar made from deer meat for example). Or at least look at designs of marzipan pigs, every konditori makes their own.
Fun fact — in Gävle they like unofficial symbol of the city so much that they have marzipan goats along with pigs.
And another fun fact — there is a drink from Norrland called Portello and it has unlicensed clones. The real Portello is produced by The Norrland Brewery (aka Vasa Bryggeri) but some other breweries have drinks with similar taste but different name. Guttsta Källa produces Ortello and Mora Bryggeri produces Candelo, though it's a trollish brewery that makes Rio Cola with familiar Cuba Cola design, too lazy to produce Julmust and Påskmust (see picture) and less popular drinks like Guldus or Haiwa are all renamed too.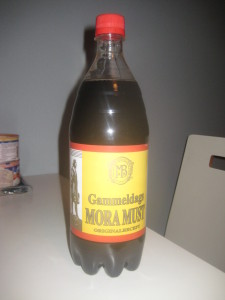 Mora Bryggeri — no julmust or påskmust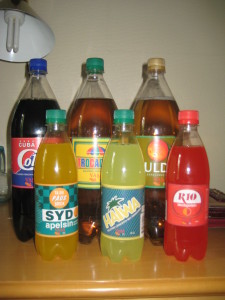 The Reference Drinks
I'll continue exploring the wonderful world of Swedish food at every possible occasion.
And some fun things to try:
julmust with semlor (they are always available in Norrland, it seems);
fried gravad lax;
filmjölk with berries (I mix lingon, blueberries and raspberries — they are available frozen all year round);
julskinka and Wastgöta Kloster cheese on tunnbröd;
Swedish apples;
chewing candies;
and of course Trocadero from any brewery in Norrland!